DELIVERING THE ULTIMATE PARKING EXPERIENCE
INDECT USA PROJECTS
Tampa International Airport - Short Term Parking Garage
Location: Tampa, FL

Spaces: 4,120

Description: The airport wanted a single Parking Guidance System to control garages, signs and a smart app to inform customers of availability prior to entering the airport. To support, INDECT monument signs have been installed with way-finding signage at decision points throughout the garage.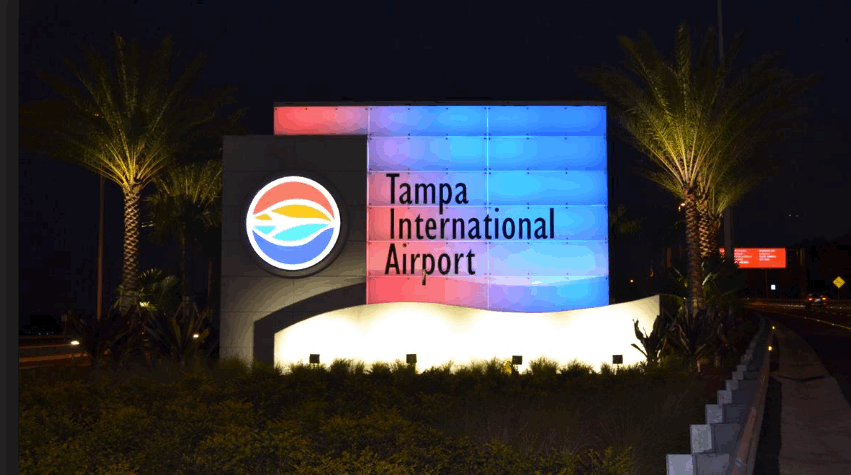 Tampa International Airport -Economy Garage
Location: Tampa, FL

Spaces: 6,700

Description: This installation is currently ongoing. Way-finding signage will be installed at all major decision points to assist patrons seeking a parking space as quickly as possible.
Jones Hall - Houston Theatre District
Location: Houston, TX

Spaces: 305

Description: This is the second garage to feature INDECT in the Theater District. The installation consists of a highly occupied garage with contract and visitor parking during the day and events nightly. UMS ultrasonic with external LEDs and way-finding signage.
Lake Nona Multi-Use Facility
Location: Orlando, Florida

Spaces: 1,183

Description: Five-level multi-use garage surrounded by a business office, hotel and retailers. Installed to direct patrons to the closest available parking space.
Love Field Airport - Garage B
Location: Dallas, TX

Spaces: 6,100

Description: A five-level garage consisting of monument signage at entry points, way-finding signage throughout. Airport gantry signage entering the airport.
Love Field Airport - Garage A
Location: Dallas, TX

Spaces: 3,800

Description: Four-level garage with monument signage at entry points, and way-finding signs throughout. Airport gantry signage on entering the airport.
Texas Medical Center - The Commons Garage 15
Location: Houston, TX

Description: Two-level garage with Upsolut sensors (multi-function) on B1, and also features a "Find Your Car" kiosk, B2 installation includes INDECT UMS ultrasonic sensors, with external LED lights.
River Oaks District
Single Space Detection, Multi-Function Sensors, Way-finding Signage, and "Find Your Car" Kiosk
Location: Houston, TX

Spaces: 1,892

Description: A six-level garage featuring INDECT Single Space Detection on levels one through five, Ultrasonic detection on level one. UPSOLUT Camera Sensors on levels two through five, and Level Counting for the roof. Way-finding signage has been installed throughout the garage and a "Find Your Car" Kiosk is installed on main level.
Gus Wortham Theater
City of Houston Theater District Garage
Location: Houston, TX

Spaces: 87

Description: INDECT UMS ultrasonic space detection indicators installed to ease the process of finding a parking space. The installation is located in front of the theater entrance, where space utilization is critical, as well as the ability to quickly switch spaces to "reserved" for special events. INDECT's ability to change the LED colors is invaluable, with limited space and the high turnover, its imperative to control each space individually. Way-finding signage supports the system as well.
OMNI Hotel At The Convention Center
INDECT Matrix Signage Linking Event Messages to Parking Areas and Spaces
Location: Dallas, Texas

Spaces: 357

Description: Pay-by-space, garage owner can remotely and instantly customize messages.
Project References
Please send us a message for a current list of Project References.
DFW Airport - Terminal D Garage
Pleased with the reults and performance of the initial INDECT system in Terminal A, DFW Airport has recently completed the installation a second INDECT system in Terminal D.
According to a Parking Guidance Systems, LLC spokesperson, all 4,350 spaces feature single-space sensors to help customers quickly find empty spaces. The garage also feature dynamic level and space count signage throughout. Terminal D's teo-hour parking area will also be enforced by an INDECT Camera Sensor to record violators, as well as notify officers of infringements.
This brings the total amount of INDECT sensors installed as DFW Airport to well over 11,000; with plans to equip all terminal parking garages over the next two years.
D/FW Airport, Texas - Terminal A
D/FW Airport, Texas - Terminal D
John Wayne Airport, California
Skigebeit Melchsee-Frutt, Swiss Ski Resort
Internal Parking Guidance & Signage Applications

(Lights located inside sensors)
External Parking Guidance & Signage Applications

(Lights not installed within sensors)